(WEBINAR) 📃 A Practice Case Study
This training will show you the basics of creating quick and valuable retirement projections for a sample client. We are going to start with entering client data, running the projections, and comparing a couple of scenarios. In doing this, we will show you how you can use Snap Projections to find the answer to the following:
How long will my money last? Am I going to be OK?
How much can I spend so I won't run out of money?
I'm currently saving $XXX. Will it be enough?
Here is the customer case study we use during the webinar. Feel free to practice it on your own and then watch the webinar to find the answers to your questions. A summary of the webinar with timestamps is provided below the video. If your questions aren't addressed in the recording, please reach out to us at [email protected] and we'll be happy to help!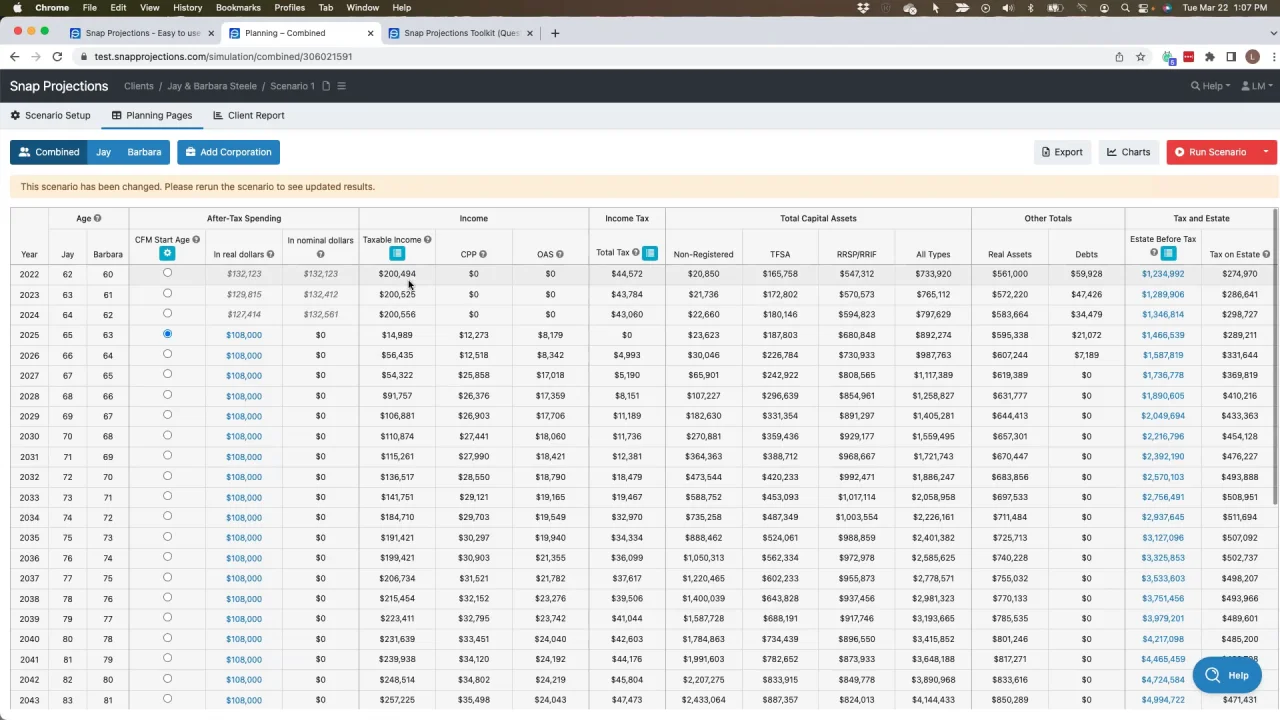 50:10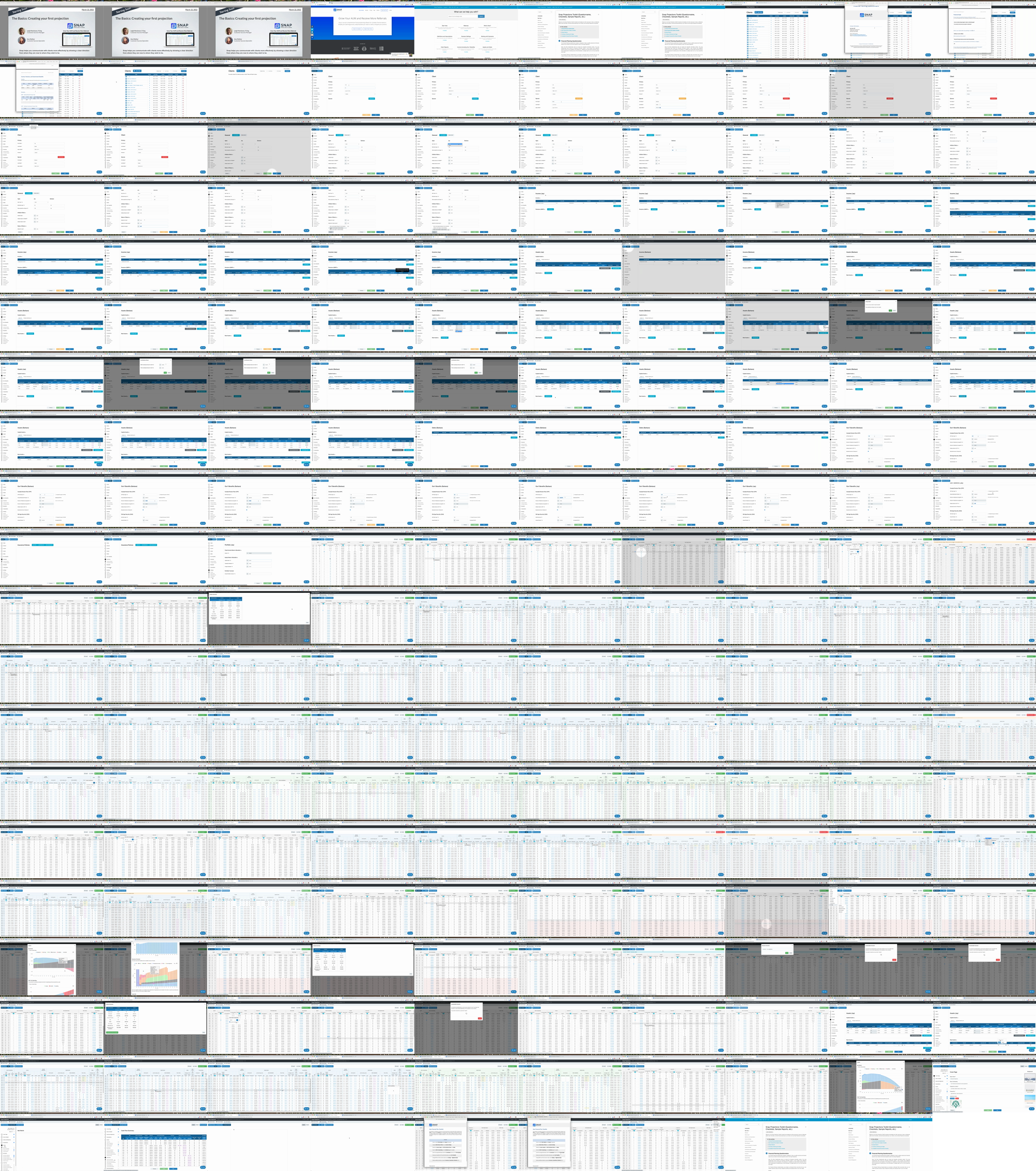 8:39
#wistia_chrome_164 #wistia_grid_171_wrapper .w-css-reset{font-size:14px;} #wistia_chrome_164 #wistia_grid_171_wrapper div.w-css-reset{box-sizing:inherit;box-shadow:none;color:inherit;display:block;float:none;font:inherit;font-family:inherit;font-style:normal;font-weight:normal;font-size:inherit;letter-spacing:0;line-height:inherit;margin:0;max-height:none;max-width:none;min-height:0;min-width:0;padding:0;position:static;text-decoration:none;text-transform:none;text-shadow:none;transition:none;word-wrap:normal;-webkit-tap-highlight-color:rgba(0,0,0,0);-webkit-user-select:none;-webkit-font-smoothing:antialiased} #wistia_chrome_164 #wistia_grid_171_wrapper span.w-css-reset{box-sizing:inherit;box-shadow:none;color:inherit;display:block;float:none;font:inherit;font-family:inherit;font-style:normal;font-weight:normal;font-size:inherit;letter-spacing:0;line-height:inherit;margin:0;max-height:none;max-width:none;min-height:0;min-width:0;padding:0;position:static;text-decoration:none;text-transform:none;text-shadow:none;transition:none;word-wrap:normal;-webkit-tap-highlight-color:rgba(0,0,0,0);-webkit-user-select:none;-webkit-font-smoothing:antialiased} #wistia_chrome_164 #wistia_grid_171_wrapper ul.w-css-reset{box-sizing:inherit;box-shadow:none;color:inherit;display:block;float:none;font:inherit;font-family:inherit;font-style:normal;font-weight:normal;font-size:inherit;letter-spacing:0;line-height:inherit;margin:0;max-height:none;max-width:none;min-height:0;min-width:0;padding:0;position:static;text-decoration:none;text-transform:none;text-shadow:none;transition:none;word-wrap:normal;-webkit-tap-highlight-color:rgba(0,0,0,0);-webkit-user-select:none;-webkit-font-smoothing:antialiased} #wistia_chrome_164 #wistia_grid_171_wrapper li.w-css-reset{box-sizing:inherit;box-shadow:none;color:inherit;display:block;float:none;font:inherit;font-family:inherit;font-style:normal;font-weight:normal;font-size:inherit;letter-spacing:0;line-height:inherit;margin:0;max-height:none;max-width:none;min-height:0;min-width:0;padding:0;position:static;text-decoration:none;text-transform:none;text-shadow:none;transition:none;word-wrap:normal;-webkit-tap-highlight-color:rgba(0,0,0,0);-webkit-user-select:none;-webkit-font-smoothing:antialiased} #wistia_chrome_164 #wistia_grid_171_wrapper label.w-css-reset{box-sizing:inherit;box-shadow:none;color:inherit;display:block;float:none;font:inherit;font-family:inherit;font-style:normal;font-weight:normal;font-size:inherit;letter-spacing:0;line-height:inherit;margin:0;max-height:none;max-width:none;min-height:0;min-width:0;padding:0;position:static;text-decoration:none;text-transform:none;text-shadow:none;transition:none;word-wrap:normal;-webkit-tap-highlight-color:rgba(0,0,0,0);-webkit-user-select:none;-webkit-font-smoothing:antialiased} #wistia_chrome_164 #wistia_grid_171_wrapper fieldset.w-css-reset{box-sizing:inherit;box-shadow:none;color:inherit;display:block;float:none;font:inherit;font-family:inherit;font-style:normal;font-weight:normal;font-size:inherit;letter-spacing:0;line-height:inherit;margin:0;max-height:none;max-width:none;min-height:0;min-width:0;padding:0;position:static;text-decoration:none;text-transform:none;text-shadow:none;transition:none;word-wrap:normal;-webkit-tap-highlight-color:rgba(0,0,0,0);-webkit-user-select:none;-webkit-font-smoothing:antialiased} #wistia_chrome_164 #wistia_grid_171_wrapper button.w-css-reset{box-sizing:inherit;box-shadow:none;color:inherit;display:block;float:none;font:inherit;font-family:inherit;font-style:normal;font-weight:normal;font-size:inherit;letter-spacing:0;line-height:inherit;margin:0;max-height:none;max-width:none;min-height:0;min-width:0;padding:0;position:static;text-decoration:none;text-transform:none;text-shadow:none;transition:none;word-wrap:normal;-webkit-tap-highlight-color:rgba(0,0,0,0);-webkit-user-select:none;-webkit-font-smoothing:antialiased} #wistia_chrome_164 #wistia_grid_171_wrapper img.w-css-reset{box-sizing:inherit;box-shadow:none;color:inherit;display:block;float:none;font:inherit;font-family:inherit;font-style:normal;font-weight:normal;font-size:inherit;letter-spacing:0;line-height:inherit;margin:0;max-height:none;max-width:none;min-height:0;min-width:0;padding:0;position:static;text-decoration:none;text-transform:none;text-shadow:none;transition:none;word-wrap:normal;-webkit-tap-highlight-color:rgba(0,0,0,0);-webkit-user-select:none;-webkit-font-smoothing:antialiased} #wistia_chrome_164 #wistia_grid_171_wrapper a.w-css-reset{box-sizing:inherit;box-shadow:none;color:inherit;display:block;float:none;font:inherit;font-family:inherit;font-style:normal;font-weight:normal;font-size:inherit;letter-spacing:0;line-height:inherit;margin:0;max-height:none;max-width:none;min-height:0;min-width:0;padding:0;position:static;text-decoration:none;text-transform:none;text-shadow:none;transition:none;word-wrap:normal;-webkit-tap-highlight-color:rgba(0,0,0,0);-webkit-user-select:none;-webkit-font-smoothing:antialiased} #wistia_chrome_164 #wistia_grid_171_wrapper svg.w-css-reset{box-sizing:inherit;box-shadow:none;color:inherit;display:block;float:none;font:inherit;font-family:inherit;font-style:normal;font-weight:normal;font-size:inherit;letter-spacing:0;line-height:inherit;margin:0;max-height:none;max-width:none;min-height:0;min-width:0;padding:0;position:static;text-decoration:none;text-transform:none;text-shadow:none;transition:none;word-wrap:normal;-webkit-tap-highlight-color:rgba(0,0,0,0);-webkit-user-select:none;-webkit-font-smoothing:antialiased} #wistia_chrome_164 #wistia_grid_171_wrapper p.w-css-reset{box-sizing:inherit;box-shadow:none;color:inherit;display:block;float:none;font:inherit;font-family:inherit;font-style:normal;font-weight:normal;font-size:inherit;letter-spacing:0;line-height:inherit;margin:0;max-height:none;max-width:none;min-height:0;min-width:0;padding:0;position:static;text-decoration:none;text-transform:none;text-shadow:none;transition:none;word-wrap:normal;-webkit-tap-highlight-color:rgba(0,0,0,0);-webkit-user-select:none;-webkit-font-smoothing:antialiased} #wistia_chrome_164 #wistia_grid_171_wrapper a.w-css-reset{border:0;} #wistia_chrome_164 #wistia_grid_171_wrapper h1.w-css-reset{box-sizing:inherit;box-shadow:none;color:inherit;display:block;float:none;font:inherit;font-family:inherit;font-style:normal;font-weight:normal;font-size:2em;letter-spacing:0;line-height:inherit;margin:0;max-height:none;max-width:none;min-height:0;min-width:0;padding:0;position:static;text-decoration:none;text-transform:none;text-shadow:none;transition:none;word-wrap:normal;-webkit-tap-highlight-color:rgba(0,0,0,0);-webkit-user-select:none;-webkit-font-smoothing:antialiased} #wistia_chrome_164 #wistia_grid_171_wrapper h2.w-css-reset{box-sizing:inherit;box-shadow:none;color:inherit;display:block;float:none;font:inherit;font-family:inherit;font-style:normal;font-weight:normal;font-size:1.5em;letter-spacing:0;line-height:inherit;margin:0;max-height:none;max-width:none;min-height:0;min-width:0;padding:0;position:static;text-decoration:none;text-transform:none;text-shadow:none;transition:none;word-wrap:normal;-webkit-tap-highlight-color:rgba(0,0,0,0);-webkit-user-select:none;-webkit-font-smoothing:antialiased} #wistia_chrome_164 #wistia_grid_171_wrapper h3.w-css-reset{box-sizing:inherit;box-shadow:none;color:inherit;display:block;float:none;font:inherit;font-family:inherit;font-style:normal;font-weight:normal;font-size:1.17em;letter-spacing:0;line-height:inherit;margin:0;max-height:none;max-width:none;min-height:0;min-width:0;padding:0;position:static;text-decoration:none;text-transform:none;text-shadow:none;transition:none;word-wrap:normal;-webkit-tap-highlight-color:rgba(0,0,0,0);-webkit-user-select:none;-webkit-font-smoothing:antialiased} #wistia_chrome_164 #wistia_grid_171_wrapper p.w-css-reset{margin:1.4em 0;} #wistia_chrome_164 #wistia_grid_171_wrapper a.w-css-reset{display:inline;} #wistia_chrome_164 #wistia_grid_171_wrapper span.w-css-reset{display:inline;} #wistia_chrome_164 #wistia_grid_171_wrapper svg.w-css-reset{display:inline;} #wistia_chrome_164 #wistia_grid_171_wrapper ul.w-css-reset{box-sizing:inherit;box-shadow:none;color:inherit;display:block;float:none;font:inherit;font-family:inherit;font-style:normal;font-weight:normal;font-size:inherit;letter-spacing:0;line-height:inherit;margin:0;max-height:none;max-width:none;min-height:0;min-width:0;padding:0;position:static;text-decoration:none;text-transform:none;text-shadow:none;transition:none;word-wrap:normal;-webkit-tap-highlight-color:rgba(0,0,0,0);-webkit-user-select:none;-webkit-font-smoothing:antialiased;list-style-type:none} #wistia_chrome_164 #wistia_grid_171_wrapper ol.w-css-reset{box-sizing:inherit;box-shadow:none;color:inherit;display:block;float:none;font:inherit;font-family:inherit;font-style:normal;font-weight:normal;font-size:inherit;letter-spacing:0;line-height:inherit;margin:0;max-height:none;max-width:none;min-height:0;min-width:0;padding:0;position:static;text-decoration:none;text-transform:none;text-shadow:none;transition:none;word-wrap:normal;-webkit-tap-highlight-color:rgba(0,0,0,0);-webkit-user-select:none;-webkit-font-smoothing:antialiased;list-style-type:none} #wistia_chrome_164 #wistia_grid_171_wrapper li.w-css-reset{box-sizing:inherit;box-shadow:none;color:inherit;display:block;float:none;font:inherit;font-family:inherit;font-style:normal;font-weight:normal;font-size:inherit;letter-spacing:0;line-height:inherit;margin:0;max-height:none;max-width:none;min-height:0;min-width:0;padding:0;position:static;text-decoration:none;text-transform:none;text-shadow:none;transition:none;word-wrap:normal;-webkit-tap-highlight-color:rgba(0,0,0,0);-webkit-user-select:none;-webkit-font-smoothing:antialiased;list-style-type:none} #wistia_chrome_164 #wistia_grid_171_wrapper ul:before.w-css-reset{display:none} #wistia_chrome_164 #wistia_grid_171_wrapper ol:before.w-css-reset{display:none} #wistia_chrome_164 #wistia_grid_171_wrapper li:before.w-css-reset{display:none} #wistia_chrome_164 #wistia_grid_171_wrapper ul:after.w-css-reset{display:none} #wistia_chrome_164 #wistia_grid_171_wrapper ol:after.w-css-reset{display:none} #wistia_chrome_164 #wistia_grid_171_wrapper li:after.w-css-reset{display:none} #wistia_chrome_164 #wistia_grid_171_wrapper label.w-css-reset{background-attachment:scroll;background-color:transparent;background-image:none;background-position:0 0;background-repeat:no-repeat;background-size:100% 100%;float:none;outline:none} #wistia_chrome_164 #wistia_grid_171_wrapper button.w-css-reset{background-attachment:scroll;background-color:transparent;background-image:none;background-position:0 0;background-repeat:no-repeat;background-size:100% 100%;border:0;border-radius:0;outline:none;position:static} #wistia_chrome_164 #wistia_grid_171_wrapper img.w-css-reset{border:0;display:inline-block;vertical-align:top;border-radius:0;outline:none;position:static} #wistia_chrome_164 #wistia_grid_171_wrapper .w-css-reset button::-moz-focus-inner{border: 0;} #wistia_chrome_164 #wistia_grid_171_wrapper .w-css-reset-tree {font-size:14px;} #wistia_chrome_164 #wistia_grid_171_wrapper .w-css-reset-tree div{box-sizing:inherit;box-shadow:none;color:inherit;display:block;float:none;font:inherit;font-family:inherit;font-style:normal;font-weight:normal;font-size:inherit;letter-spacing:0;line-height:inherit;margin:0;max-height:none;max-width:none;min-height:0;min-width:0;padding:0;position:static;text-decoration:none;text-transform:none;text-shadow:none;transition:none;word-wrap:normal;-webkit-tap-highlight-color:rgba(0,0,0,0);-webkit-user-select:none;-webkit-font-smoothing:antialiased} #wistia_chrome_164 #wistia_grid_171_wrapper .w-css-reset-tree span{box-sizing:inherit;box-shadow:none;color:inherit;display:block;float:none;font:inherit;font-family:inherit;font-style:normal;font-weight:normal;font-size:inherit;letter-spacing:0;line-height:inherit;margin:0;max-height:none;max-width:none;min-height:0;min-width:0;padding:0;position:static;text-decoration:none;text-transform:none;text-shadow:none;transition:none;word-wrap:normal;-webkit-tap-highlight-color:rgba(0,0,0,0);-webkit-user-select:none;-webkit-font-smoothing:antialiased} #wistia_chrome_164 #wistia_grid_171_wrapper .w-css-reset-tree ul{box-sizing:inherit;box-shadow:none;color:inherit;display:block;float:none;font:inherit;font-family:inherit;font-style:normal;font-weight:normal;font-size:inherit;letter-spacing:0;line-height:inherit;margin:0;max-height:none;max-width:none;min-height:0;min-width:0;padding:0;position:static;text-decoration:none;text-transform:none;text-shadow:none;transition:none;word-wrap:normal;-webkit-tap-highlight-color:rgba(0,0,0,0);-webkit-user-select:none;-webkit-font-smoothing:antialiased} #wistia_chrome_164 #wistia_grid_171_wrapper .w-css-reset-tree li{box-sizing:inherit;box-shadow:none;color:inherit;display:block;float:none;font:inherit;font-family:inherit;font-style:normal;font-weight:normal;font-size:inherit;letter-spacing:0;line-height:inherit;margin:0;max-height:none;max-width:none;min-height:0;min-width:0;padding:0;position:static;text-decoration:none;text-transform:none;text-shadow:none;transition:none;word-wrap:normal;-webkit-tap-highlight-color:rgba(0,0,0,0);-webkit-user-select:none;-webkit-font-smoothing:antialiased} #wistia_chrome_164 #wistia_grid_171_wrapper .w-css-reset-tree label{box-sizing:inherit;box-shadow:none;color:inherit;display:block;float:none;font:inherit;font-family:inherit;font-style:normal;font-weight:normal;font-size:inherit;letter-spacing:0;line-height:inherit;margin:0;max-height:none;max-width:none;min-height:0;min-width:0;padding:0;position:static;text-decoration:none;text-transform:none;text-shadow:none;transition:none;word-wrap:normal;-webkit-tap-highlight-color:rgba(0,0,0,0);-webkit-user-select:none;-webkit-font-smoothing:antialiased} #wistia_chrome_164 #wistia_grid_171_wrapper .w-css-reset-tree fieldset{box-sizing:inherit;box-shadow:none;color:inherit;display:block;float:none;font:inherit;font-family:inherit;font-style:normal;font-weight:normal;font-size:inherit;letter-spacing:0;line-height:inherit;margin:0;max-height:none;max-width:none;min-height:0;min-width:0;padding:0;position:static;text-decoration:none;text-transform:none;text-shadow:none;transition:none;word-wrap:normal;-webkit-tap-highlight-color:rgba(0,0,0,0);-webkit-user-select:none;-webkit-font-smoothing:antialiased} #wistia_chrome_164 #wistia_grid_171_wrapper .w-css-reset-tree button{box-sizing:inherit;box-shadow:none;color:inherit;display:block;float:none;font:inherit;font-family:inherit;font-style:normal;font-weight:normal;font-size:inherit;letter-spacing:0;line-height:inherit;margin:0;max-height:none;max-width:none;min-height:0;min-width:0;padding:0;position:static;text-decoration:none;text-transform:none;text-shadow:none;transition:none;word-wrap:normal;-webkit-tap-highlight-color:rgba(0,0,0,0);-webkit-user-select:none;-webkit-font-smoothing:antialiased} #wistia_chrome_164 #wistia_grid_171_wrapper .w-css-reset-tree img{box-sizing:inherit;box-shadow:none;color:inherit;display:block;float:none;font:inherit;font-family:inherit;font-style:normal;font-weight:normal;font-size:inherit;letter-spacing:0;line-height:inherit;margin:0;max-height:none;max-width:none;min-height:0;min-width:0;padding:0;position:static;text-decoration:none;text-transform:none;text-shadow:none;transition:none;word-wrap:normal;-webkit-tap-highlight-color:rgba(0,0,0,0);-webkit-user-select:none;-webkit-font-smoothing:antialiased} #wistia_chrome_164 #wistia_grid_171_wrapper .w-css-reset-tree a{box-sizing:inherit;box-shadow:none;color:inherit;display:block;float:none;font:inherit;font-family:inherit;font-style:normal;font-weight:normal;font-size:inherit;letter-spacing:0;line-height:inherit;margin:0;max-height:none;max-width:none;min-height:0;min-width:0;padding:0;position:static;text-decoration:none;text-transform:none;text-shadow:none;transition:none;word-wrap:normal;-webkit-tap-highlight-color:rgba(0,0,0,0);-webkit-user-select:none;-webkit-font-smoothing:antialiased} #wistia_chrome_164 #wistia_grid_171_wrapper .w-css-reset-tree svg{box-sizing:inherit;box-shadow:none;color:inherit;display:block;float:none;font:inherit;font-family:inherit;font-style:normal;font-weight:normal;font-size:inherit;letter-spacing:0;line-height:inherit;margin:0;max-height:none;max-width:none;min-height:0;min-width:0;padding:0;position:static;text-decoration:none;text-transform:none;text-shadow:none;transition:none;word-wrap:normal;-webkit-tap-highlight-color:rgba(0,0,0,0);-webkit-user-select:none;-webkit-font-smoothing:antialiased} #wistia_chrome_164 #wistia_grid_171_wrapper .w-css-reset-tree p{box-sizing:inherit;box-shadow:none;color:inherit;display:block;float:none;font:inherit;font-family:inherit;font-style:normal;font-weight:normal;font-size:inherit;letter-spacing:0;line-height:inherit;margin:0;max-height:none;max-width:none;min-height:0;min-width:0;padding:0;position:static;text-decoration:none;text-transform:none;text-shadow:none;transition:none;word-wrap:normal;-webkit-tap-highlight-color:rgba(0,0,0,0);-webkit-user-select:none;-webkit-font-smoothing:antialiased} #wistia_chrome_164 #wistia_grid_171_wrapper .w-css-reset-tree a{border:0;} #wistia_chrome_164 #wistia_grid_171_wrapper .w-css-reset-tree h1{box-sizing:inherit;box-shadow:none;color:inherit;display:block;float:none;font:inherit;font-family:inherit;font-style:normal;font-weight:normal;font-size:2em;letter-spacing:0;line-height:inherit;margin:0;max-height:none;max-width:none;min-height:0;min-width:0;padding:0;position:static;text-decoration:none;text-transform:none;text-shadow:none;transition:none;word-wrap:normal;-webkit-tap-highlight-color:rgba(0,0,0,0);-webkit-user-select:none;-webkit-font-smoothing:antialiased} #wistia_chrome_164 #wistia_grid_171_wrapper .w-css-reset-tree h2{box-sizing:inherit;box-shadow:none;color:inherit;display:block;float:none;font:inherit;font-family:inherit;font-style:normal;font-weight:normal;font-size:1.5em;letter-spacing:0;line-height:inherit;margin:0;max-height:none;max-width:none;min-height:0;min-width:0;padding:0;position:static;text-decoration:none;text-transform:none;text-shadow:none;transition:none;word-wrap:normal;-webkit-tap-highlight-color:rgba(0,0,0,0);-webkit-user-select:none;-webkit-font-smoothing:antialiased} #wistia_chrome_164 #wistia_grid_171_wrapper .w-css-reset-tree h3{box-sizing:inherit;box-shadow:none;color:inherit;display:block;float:none;font:inherit;font-family:inherit;font-style:normal;font-weight:normal;font-size:1.17em;letter-spacing:0;line-height:inherit;margin:0;max-height:none;max-width:none;min-height:0;min-width:0;padding:0;position:static;text-decoration:none;text-transform:none;text-shadow:none;transition:none;word-wrap:normal;-webkit-tap-highlight-color:rgba(0,0,0,0);-webkit-user-select:none;-webkit-font-smoothing:antialiased} #wistia_chrome_164 #wistia_grid_171_wrapper .w-css-reset-tree p{margin:1.4em 0;} #wistia_chrome_164 #wistia_grid_171_wrapper .w-css-reset-tree a{display:inline;} #wistia_chrome_164 #wistia_grid_171_wrapper .w-css-reset-tree span{display:inline;} #wistia_chrome_164 #wistia_grid_171_wrapper .w-css-reset-tree svg{display:inline;} #wistia_chrome_164 #wistia_grid_171_wrapper .w-css-reset-tree ul{box-sizing:inherit;box-shadow:none;color:inherit;display:block;float:none;font:inherit;font-family:inherit;font-style:normal;font-weight:normal;font-size:inherit;letter-spacing:0;line-height:inherit;margin:0;max-height:none;max-width:none;min-height:0;min-width:0;padding:0;position:static;text-decoration:none;text-transform:none;text-shadow:none;transition:none;word-wrap:normal;-webkit-tap-highlight-color:rgba(0,0,0,0);-webkit-user-select:none;-webkit-font-smoothing:antialiased;list-style-type:none} #wistia_chrome_164 #wistia_grid_171_wrapper .w-css-reset-tree ol{box-sizing:inherit;box-shadow:none;color:inherit;display:block;float:none;font:inherit;font-family:inherit;font-style:normal;font-weight:normal;font-size:inherit;letter-spacing:0;line-height:inherit;margin:0;max-height:none;max-width:none;min-height:0;min-width:0;padding:0;position:static;text-decoration:none;text-transform:none;text-shadow:none;transition:none;word-wrap:normal;-webkit-tap-highlight-color:rgba(0,0,0,0);-webkit-user-select:none;-webkit-font-smoothing:antialiased;list-style-type:none} #wistia_chrome_164 #wistia_grid_171_wrapper .w-css-reset-tree li{box-sizing:inherit;box-shadow:none;color:inherit;display:block;float:none;font:inherit;font-family:inherit;font-style:normal;font-weight:normal;font-size:inherit;letter-spacing:0;line-height:inherit;margin:0;max-height:none;max-width:none;min-height:0;min-width:0;padding:0;position:static;text-decoration:none;text-transform:none;text-shadow:none;transition:none;word-wrap:normal;-webkit-tap-highlight-color:rgba(0,0,0,0);-webkit-user-select:none;-webkit-font-smoothing:antialiased;list-style-type:none} #wistia_chrome_164 #wistia_grid_171_wrapper .w-css-reset-tree ul:before{display:none} #wistia_chrome_164 #wistia_grid_171_wrapper .w-css-reset-tree ol:before{display:none} #wistia_chrome_164 #wistia_grid_171_wrapper .w-css-reset-tree li:before{display:none} #wistia_chrome_164 #wistia_grid_171_wrapper .w-css-reset-tree ul:after{display:none} #wistia_chrome_164 #wistia_grid_171_wrapper .w-css-reset-tree ol:after{display:none} #wistia_chrome_164 #wistia_grid_171_wrapper .w-css-reset-tree li:after{display:none} #wistia_chrome_164 #wistia_grid_171_wrapper .w-css-reset-tree label{background-attachment:scroll;background-color:transparent;background-image:none;background-position:0 0;background-repeat:no-repeat;background-size:100% 100%;float:none;outline:none} #wistia_chrome_164 #wistia_grid_171_wrapper .w-css-reset-tree button{background-attachment:scroll;background-color:transparent;background-image:none;background-position:0 0;background-repeat:no-repeat;background-size:100% 100%;border:0;border-radius:0;outline:none;position:static} #wistia_chrome_164 #wistia_grid_171_wrapper .w-css-reset-tree img{border:0;display:inline-block;vertical-align:top;border-radius:0;outline:none;position:static} #wistia_chrome_164 #wistia_grid_171_wrapper .w-css-reset-tree button::-moz-focus-inner{border: 0;} #wistia_chrome_164 #wistia_grid_171_wrapper .w-css-reset-max-width-none-important{max-width:none!important} #wistia_chrome_164 #wistia_grid_171_wrapper .w-css-reset-button-important{border-radius:0!important;color:#fff!important;}
#wistia_grid_171_wrapper{-moz-box-sizing:content-box;-webkit-box-sizing:content-box;box-sizing:content-box;font-family:Arial,sans-serif;font-size:14px;height:100%;position:relative;text-align:left;width:100%;} #wistia_grid_171_wrapper *{-moz-box-sizing:content-box;-webkit-box-sizing:content-box;box-sizing:content-box;} #wistia_grid_171_above{position:relative;} #wistia_grid_171_main{display:block;height:100%;position:relative;} #wistia_grid_171_behind{height:100%;left:0;position:absolute;top:0;width:100%;} #wistia_grid_171_center{height:100%;overflow:hidden;position:relative;width:100%;} #wistia_grid_171_front{display:none;height:100%;left:0;position:absolute;top:0;width:100%;} #wistia_grid_171_top_inside{position:absolute;left:0;top:0;width:100%;} #wistia_grid_171_top{width:100%;position:absolute;bottom:0;left:0;} #wistia_grid_171_bottom_inside{position:absolute;left:0;bottom:0;width:100%;} #wistia_grid_171_bottom{width:100%;position:absolute;top:0;left:0;} #wistia_grid_171_left_inside{height:100%;position:absolute;left:0;top:0;} #wistia_grid_171_left{height:100%;position:absolute;right:0;top:0;} #wistia_grid_171_right_inside{height:100%;right:0;position:absolute;top:0;} #wistia_grid_171_right{height:100%;left:0;position:absolute;top:0;} #wistia_grid_171_below{position:relative;}
The following topics are covered:
Section 1: Intro and Setup [2:42 - 8:40]
Section 2: Getting started with Data Entry [8:40-33:33]
Section 3: Where to start on the Planning Page [33:34 - 40:30]
Overview of the Planning page
Entering the client's desired after-tax spending for retirement
Entering Capital Asset Contributions (Maximize TFSA Contributions)
What does the yellow highlighting mean? Manual contribution or withdrawal overrides.
How the cash flow is managed. (Automatic CFM or Manual)

Automatic contributions or withdrawals are based on the desired After-Tax Spending.
Manual contributions or withdrawals - the remaining cash is considered to be spent each year and is displayed under After-Tax Spending.

Changing the CFM Order (Using the CFM Order column)
Net Worth Chart, After-Tax Spending Chart, and Sources of Income Chart
The Estate Summary
Section 4: Answering the Client's Questions [40:30 - 1:01:00]
How long will the client's money last? Are they going to be ok?
Using the Recommendations Feature
Making Changes to New Scenarios and Copying Scenarios
How much could the clients spend and not run out of money? Running a Sustainable Scenario
How to show the clients spending more in early retirement, then run a Sustainable scenario at age 75.
What if they decide to sell their home during the projections? (58:30)
Additional Resources available